First Ship Crosses New East Port Said Side Channel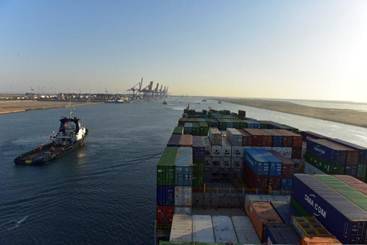 Shipping group CMA CGM announced that its containership CMA CGM Racine was the first vessel to cross the New East Port Said side Channel, during the Opening ceremony held on February 24.
Chérif Ismaïl, Egyptian Prime Minister, Saad El-Giuchy, Egyptian Minister of Transport, and Admiral Mohab Mamish, Chairman of the Suez Canal Authority were present for the occasion.
Thanks to this new side channel, vessels will have a 24-hour access to East Port Said instead of current 8-hour access. This will bring much more flexibility on berthing windows and less restriction due to the Suez Canal convoy for ships who want to sail directly to the
Mediterranean
Sea or to berth. The project was concluded in November 2015 and completed within a few months. The new channel is 9 kilometers long, 250 meters wide and 18 meters deep, allowing vessels up to 16.6 meters draft to cross it.