Incat Crowther Design 10-Boat IUV Order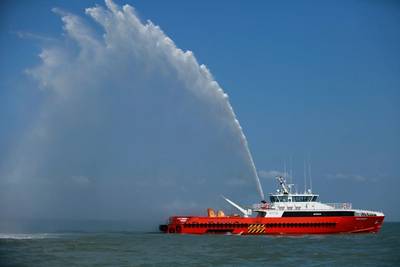 Incat Crowther say they supported Strategic Marine in their winning technical proposal for the construction of ten 42m Infield Utility Vessels (IUV) for Brunei's PTAS Marine, and the first boat has now been delivered. Details as follows:

Strategic Marine called in Incat to assist in their technical proposal for the project, committing to a timeframe of just 15 months from contract signing to the delivery of the ninth vessel. The tenth boat will be retained by PTAS as a backup vessel throughout the contract period.

The first of the vessels, PTAS Amanah 1, has been delivered with PTAS Amanah 2, PTAS Amanah 3 and PTAS Amanah 4 soon to follow. The remaining vessels are nearing completion at Strategic's Vietnam yard and undergoing sea trials.

The vessels' hulls are built from steel, with aluminium superstructures and they are classed to LR SSC rules.

The design features a 100 square metre aft working deck, capable of carry 10 tonnes of cargo capacity. An aft platform is fitted for personnel transfers. The main deck cabin seats 30 personnel, as well as accommodating 100 survivors in the event that the vessel is called into an emergency situation. A sick bay is also located on this deck, as are a galley, crew mess and food storage for the vessel's 12 crew.

The vessels' crew sleep below decks, with a noise lock / service void separating them from the engine room. The vessel meets stringent noise requirements, which include a maximum volume of 65bBa in all accommodation spaces. Additional features include oil dispersant spray booms port and starboard and an aft-facing firefighting monitor.

Incat Crowther add that the vessels' propulsion system consist of a pair of Cummins KTA38 outboard engines and a single Cummins KTA50 central main engine. The central engine drives the firefighting monitor, all three drive fixed-pitch propellers through Twin Disc gearboxes. They have a service speed of 20 knots and a top speed of 21.5knots.