Two Incat Crowther Ferries join Ultramar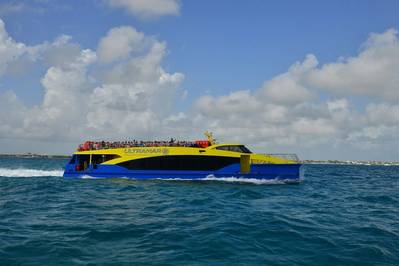 Incat Crowther has delivered City Jet 1 and City Jet 2. The 28m Passenger ferries are part of a six vessel new build program for the Cancun-based operator, Ultramar.
The vessels will operate at high frequency across the enclosed lagoon adjacent to Cancun, thereby sparing tourists a notoriously lengthy bus trip and reducing travel times by up to 70%. The ferries were built by Midship Marine in Harvey, Louisiana.
The main deck cabin can accommodate 118 passengers in high-end seating. Sliding doors are fitted at both the forward and aft ends of the cabin for ease of access. The aft deck features a bathroom, electrical closet, standing room for passengers, and plenty of room for luggage. Also featured on the aft deck is a raised engine hatch increasing maintenance space in the engine room. As with all other Ultramar boats designed by Incat Crowther, the vessels are fitted with forward and aft hinged boarding ramps on both sides that facilitates rapid loading and unloading.
The pilothouse sits on a raised platform, affording good visibility over the bow. The roof deck features 140 external passenger seats with room for emergency life floats.
The low draft vessel is powered by two (2) Yanmar 6HYM-WET engines pushing fixed-pitch propellers for a service speed of 22 knots at 85% MCR.
The addition of City Jet 1 and City Jet 2 to Ultramar's fleet rewards Incat Crowther's attention to servicing the client's needs. By being tailored to a specific set of operational requirements, this new lagoon vessels will be reliable and profitable.
SPECIFICATIONS - 28m CATAMARAN PASSENGER FERRY
Length Overall: 91' 10" / 28.0m
Length Waterline: 90' 10" / 27.7m
Beam Overall: 24' 7" / 7.5m
Draft (hull): 3' 1" / 0.95m
Draft (prop or max): 3' 11" / 1.2m
Depth: 6' 6" / 2.0m
Construction: Construction Marine Grade Aluminum
Fuel Oil: 528 gallons / 2,000 litres
Fresh Water: 66 gallons / 250 litres
Sullage: 264 gallons / 1,000 litres
Passengers: 300
Crew: 2
Speed (Service): 22 knots
Speed (Max): 25 knots
Main Engines: 2 x Yanmar 6HYM-WET
Power: 2 x 441kW @ 2100rpm
Propulsion: 2 x Propellers
Flag: Mexico