New Costa Cruise Ship: First Block Placed Down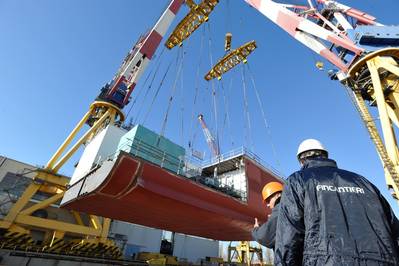 Construction work begins in Fincantieri's Margher Shipyard on the cruise ship 'Costa Diadema'.

Weighing in at 132,500 gross tonnage and with accommodation for a total of 4,947 guests, this will be the biggest Italian-flagged cruise ship afloat. She is the 10th Costa ship built by Fincantieri in Italy since 2000, with a total investment worth almost 5 billion euros.

The building and fitting-out, which are due for completion at the end of October 2014, will employ around 3,500 workers and 400 contracted suppliers.

A ceremony marking the placing of the first building block module was attended by Costa Crociere S.p.A. CEO Michael Thamm and President Gianni Onorato, while Fincantieri was represented by its CEO Giuseppe Bono.

During the ceremony, the first building block of the ship – weighing approximately 504 tonnes, measuring 15.7 meters in breadth by 29 meters in length and forming the central part of the ship – was lifted by a crane and laid on the bottom of the dock where the ship will take shape. The construction and fitting-out will continue until October 30, 2014, the ship's scheduled date of delivery.

Costa has invested a total of around 550 million euros in the new flagship. She will be the biggest cruise ship flying the Italian flag: 132,500 gross tonnage, 306 meters in length, 37.2 meters in breadth, 4,947 total Guests, 1,253 crew members, 1,854 Guest cabins.

Giuseppe Bono, CEO of Fincantieri, said: "The end of year is approaching and it's time for us to take stock. 2012 has been an extremely difficult year, especially for shipbuilding. Total global investments have been little more than a quarter of those in 2007, resulting in a halving of the number of cruise ship orders. We've done our part, by securing almost all of these orders and confirming the dual challenge we set ourselves: on the one hand, to focus on sectors that offer good opportunities for development, and on the other, to maintain our leadership in our traditional sectors."