Diary Note: Marion Bermuda Cruising Race Date Set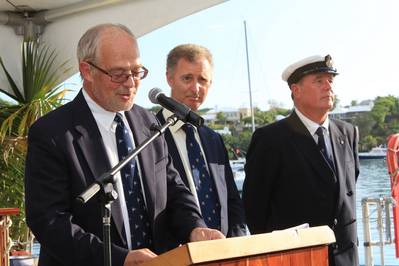 The Board of Trustees of the race schedule Friday June 19, 2015 as the date for the 20th biennial Marion Bermuda Race.
The Board of Trustees of the Marion to Bermuda Cruising Yacht Race Association (MBCYRA) made the decision as they met at the Royal Hamilton Amateur Dinghy Club in Bermuda in their post-mortem meeting following the 2013 race. The starting date was announced at the 2013 prizegiving.
Commenting on the date, His Excellency the Governor of Bermuda Mr. George Fergusson said he was pleased that the 2015 race would start on June 19th. This year the race conflicted with Bermuda's National Heroes Day and the Queen's Birthday, so he had to stay on the island for official duties. "In 2015 the holiday will fall on the previous weekend," he noted. And to loud applause from the sailors, Governor Fergusson said, "I'm making plans now to sail with you in the next Marion to Bermuda Race."

In setting the date, the trustees decided that the start should return to the traditional third weekend in June to avoid this year's conflict with the New York Yacht Club Annual Regatta held in nearby Newport RI on the second weekend. This will allow more cruising yachts that enter the Annapolis Newport Race or the NYYC event to participate in Marion to Bermuda. Trustees confirmed that at a minimum, the race will have the same divisions as 2013 — Founders for boats 32-80 feet, Celestial navigation for star gazers, Big Boats for boats 65 to 100 feet with relaxed sail restrictions, and a division for Classic Sail Training Vessels. There may be more.

About the Marion Bermuda Cruising Yacht Race Association
Since its inception in 1977, the biennial Marion Bermuda Race has been a premier 645 mile ocean race and sailing event which appeals to a broad range of cruising and racing enthusiasts. The spirit of the race is one focused on Family and Fun, and all yachts and crew are participating for the joy and pleasure of sailing, competition, and the camaraderie that accompanies such an offshore event.