USCG's New Cutter Pulls into Boston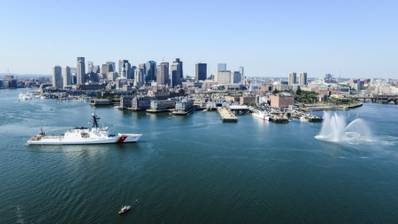 The U.S. Coast Guard's (USCG) latest 418-foot National Security Cutter James (WSML 754) entered Boston Harbor August 3 ahead of her commissioning scheduled for August 8.
James is the fifth of eight planned National Security Cutters – the largest and most technologically advanced class of cutters in the USCG fleet.
A $482.8 million contract for James' construction was awarded to Huntington Ingalls Industries' Ingalls Shipbuilding division on September 9, 2011. James was launched on May 3, 2014 and christened August 16 of that year.
According to the USCG, the cutters' design provides better seakeeping, higher sustained transit speeds, greater endurance and range and the ability to launch and recover small boats from astern, as well as aviation support facilities and a flight deck for helicopters and unmanned aerial vehicles.
The vessel is named for
Joshua James
– credited with saving more than 600 lives along the
New England coastline
over a nearly 60-year career in the U.S. Life-Saving Service from the mid to late 1800s.