New Coast Guard Cutter Back for Paint Job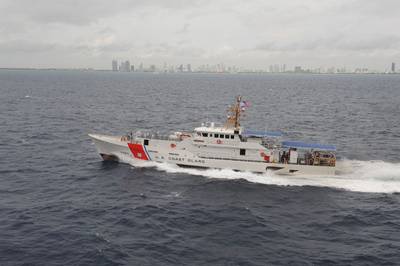 Peeling paint sidelined USCG's newest cutter, 'Bernard C. Webber' until hull paintwork was restored
Three months after its commissioning, the fast response cutter (FRC) Bernard C. Webber was back on land to repair chunks of top coat literally peeling from the ship's hull, reports 'Navy Times'.
The majority of the top coat remained in place until the ship got back to dry dock for a repaint; the largest piece to come off was 18 square feet located near the stern on the port side of the ship, Charles "Skip" Bowen, program manager for FRC's at the builders, Bollinger Shipyards told 'Navy Times'. There were also smaller spots of peeling near the bow.

The problem occurred during production and was caused by high humidity and poor ventilation in the shed it was painted in, said an official at Bollinger Shipyards, the company building the Coast Guard's FRCs.
As a result, the primer coat did not cure properly. A thin film formed between the primer and the glossy top coat, Bowen added, causing parts of the top coat to delaminate from the primer.
The cutter is now back in its home port of Miami following the repairs.