Harris Pye to the Rescue for Damaged Hull Repair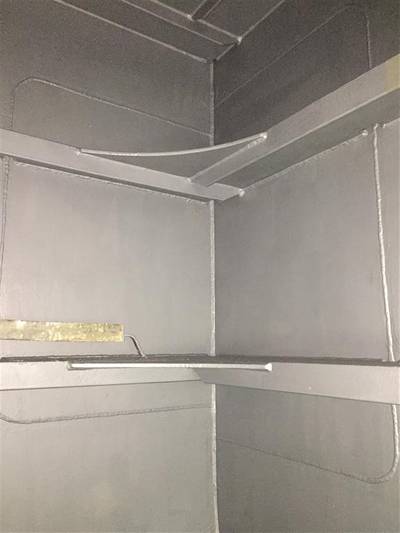 Timing is all-important when repairs to a busy drillship are the order of the day. When Pacific International Drilling West Africa's (PIDWAL) drillship Pacific Bora suffered damage to the starboard aft hull off the coast of Nigeria, PIDWAL called for assistance from the Harris Pye Engineering Group.

The repair was successfully evaluated; all necessary specialists and labor, steel, tools and equipment were mobilized; and the repair was made, installed, painted and tested in less than two weeks of the Harris Pye team boarding the Pacific Bora ("PBA").

The Harris Pye team of one supervisor and three highly trained specialist tradesmen boarded the rig on 3 May offshore Nigeria, and sailed with it to the calm waters offshore Malabo, Equatorial Guinea where the work was successfully undertaken, and the Harris Pye crew disembarked on May 16.

"We studied the repair scope, and put together a method statement to perform the repair work while the rig is afloat to avoid any dry docking and other cofferdam and divers cost, in order to bring the PBA back to 100 percent operability in under two weeks," explains Chris David, Chief Technical Officer, of the global engineering group.

"PIDWAL had put together a task risk assessment for trimming the rig by forward, to maintain the dented portion 2.1m above water to enable us to proceed with the repair. They also provided all tools and consumables for the repair works, including the overhanging/ overboard scaffolding, so there were no delays due to customs holdups. The steel plate and rubbing bar for the repair were purchased by Harris Pye UK; and freight was handled by PIDWAL.

"Our scope of work gives an idea of just how exacting a project of this kind can be, and how vital it is to have a good working relationship with the client and their crew. We undertook to:

Crop and remove the damaged section of the shell plating
Prepare the edges in way of cut out for the installation of new plate
Prepare new plate and edge prepare it ready for installation
Install and weld prefabricated sections of shell/transom plating
Install and weld Ø60 half round bar
Perform welding according to Class-approved WPS (ABS Class)
Perform NDT by client-arranged third party
Apply touch-up paint
"All repair works were performed to the satisfaction of the attending ABS surveyor and Pacific Bora was ready to get back to work."

"PIDWAL has an array of registered in-country and overseas fabrication/welding vendors on the company's vendor management system however with the repair scope and the possible risk involved in the hull repair, we had to scrutinize for a vendor that could deliver on time and on budget," explains Adebo Oladipo, Assistant Rig Manager, Pacific Bora.

"We were sceptical initially because we weren't sure of Harris Pye's experience working off the coast of Nigeria however discussions with several PIDWAL employees that have had previous relationships with Harris Pye, instilled the needed confidence.

"The project was completed off the coast of Luba in an efficient manner."