Damen Building 75-meter Crane Barge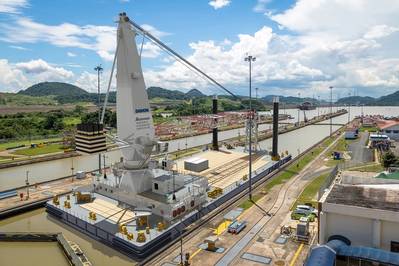 Damen Shipyards Group said it has laid the keel for a new crane barge that is going to be delivered in Panama, following award of tender in August last year. The barge is being built at Damen Yichang Shipyard in Hubei Province, China. The shipyard is almost back to full capacity following the recent coronavirus outbreak, with strict safety measures to protect the health and wellbeing of yard workers.
The 75- by 32-meter Crane Barge 7532 will succeed, a 77-year old crane still in operation. Following construction, the new crane barge will be outfitted with a crane at Huisman's Zhangzhou facility, giving it the capability to lift 625 metric tons at 25 meters.
As the world is facing the coronavirus pandemic, Damen is implementing strict safety controls to deal with the challenges this is putting on the project, the company said. For example, engineers on the project are currently working from home and are using digital communication to stay in contact with one another. The same applies to Damen's communication with the client during this time. Additional safety measures include a robust cleaning and sterilisation program, body temperature controls on entering the yard and the observation of safe working distance guidelines.
After the crane installation, the crane barge will cross the Pacific on a heavy lift vessel and arrive at the anchorage area of Balboa in Panama where final tests will be conducted before it enters service.