Cargoship Disabled and Grounded in Dardanelles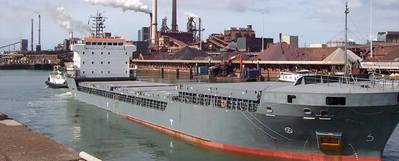 General cargo vessel Ibrahim Konan (7,618 dwt, built 2008) today (July 1) suffered rudder failure and ran aground in Dardanelles in front of Eceabat in Turkey, while transiting in southern direction.
The 109 meters long vessel loaded with ammonium sulfate is en route from Novorossiysk Russia to Abu Qir Egypt. The ship is operated by Turkey's Konan Shipping.
According to the captain's statement, the board learned that there are no leaks or injury. In the examination detected no pollution. General Directorate of Coastal Safety 'Put 7' The tug was sent to the area for rescue work.
The grounding was caused by a rudder failure, and that a Coast Guard tug has been sent to refloat the vessel.