DCT Gdansk Celebrates First Year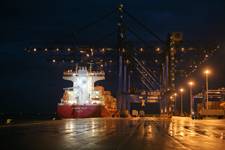 On October 1, 2008, the Polish deepwater container terminal DCT Gdansk celebrated its first birthday with a large reception party, attended by close to 300 people. Amongst invited guests were representatives of freight forwarders, shipping lines and rail operators working with the terminal, as well as local authorities with the Mayor of Gdansk and the Chairman of the . The ambassadors of and were also in attendance.
These anniversary party celebrations took place on the terminal apron in a transparent marquee, enabling the guests to view the terminal in operation while the stage inside had been created using a 45ft open-sided container provided by Containerships, currently the terminal's largest customer.
DCT Gdansk SA is a Polish registered company majority owned by GIF II (Global Infrastructure Fund II), a specialist fund managed by a member of the Macquarie Group of Companies, headquartered in . Its new terminal offers year-round ice-free access to container vessels with depths of up to 15m, providing perfect conditions to serve as a transhipment hub to and the rest of the Baltic. Its three post-Panamax gantry cranes are able to work vessels carrying containers 18-across on deck. A ro-ro facility has also been provided.
The rail terminal, operated by DCT Gdansk, is located adjacent to the marine facility and a major logistics/distribution park is now in the planning stage, making DCT the ideal gateway to and Eastern & Central Europe.
In a period of less than a year of activity, the terminal has acquired the cooperation of the largest shipping line in the world, and many customers as well. Presently monthly turnover exceeds 10,000 TEU.