US Coast Guard Declares PO Travis Connick 'Coxwain of the Year'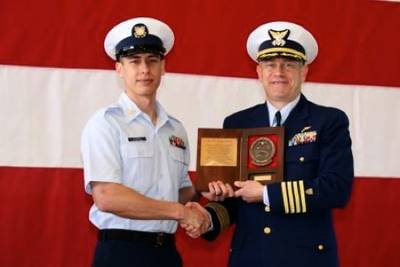 Coast Guard Petty Officer 1st Class Travis Connick received the award in a ceremony at Sector Corpus Christi, honoring him for his interception of a Mexican boat crew involved in the fatal wounding of a colleague in the service.

Background to the incident
The Coast Guard Cutter Halibut's 16-foot response boat, was rammed by a Mexican boat evading capture, and one of its crewmembers, Senior Chief Petty Officer Terrell Horne III was fatally injured as a result.

Coast Guard assets immediately responded, along with U.S. Customs and Border Protection, to intercept the suspected vessel.

At 3 a.m., Coast Guard Station Los Angeles-Long Beach launched a boatcrew aboard a 45-foot Response Boat — Medium, with Connick as the coxswain. Connick and his crew relentlessly pursued the boat in heavy seas and complete darkness, maximizing crew endurance and vessel limitations, to intercept the Mexican boat before it reached Mexican territorial waters. Connick and his crew were more than 90 miles offshore when they intercepted the boat.

Jose Meija-Leyva of Ensenada, Mexico, who was operating the boat intercepted by Connick, was convicted of murdering Horne and is facing up to life in prison. Also in the Mexican boat was Manuel Beltran-Higuera, who was convicted of assault and failure to yield, and is facing up to 60 years in prison.

The award
Petty Officer 1st Class Travis Connick was recognized for sustained superior performance, skill and leadership during the interdiction. Capt. Samuel R. Creech, Jr., the commanding officer of Sector Corpus Christi, awarded the coxswain of the year the Cmdr. Ray Evans outstanding coxswain trophy.

"He inspires me and the entire Coast Guard who protect our U.S. waterways," said Creech. During the ceremony, Creech referenced Connick's "warrior spirit."

"My crew and I were just doing what we were trained to do," said Connick.