USN to Decommission 11 Ships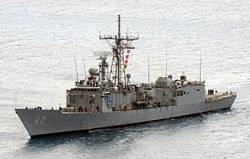 Frigates, cruisers and an aircraft carrier will be decommissioned by US Navy
US warships, eleven in number comprising six frigates, four cruisers and an aircraft carrier are set to be decommissioned during fiscal 2013, according to a Navy message released by Deputy Chief of Naval Operations Vice-Admiral John Blake, which includes deactivation dates and the fates of the ships. The six frigates will be sold to foreign militaries, while the four cruisers will be dismantled.
USS Enterprise, the world's first nuclear-powered aircraft carrier and the oldest active-duty warship in the fleet, will move to a shipyard March 15, next year. There, it will await a date for decommissioning.
Next ship in the program to be taken out of service is the frigate USS Klakring, built in 1982 by the Bath Ironworks Corp in Maine sponsored by a nephew of Rear Admiral Thomas B. Klakring who was awarded three Navy Crosses as a submarine commander during World War ll.

The gas-turbine powered, single screw ship was notable earlier in her life as the first air-capable, air-embarking ship in the Navy.