Wärtsilä Designs Deepwater DSV for China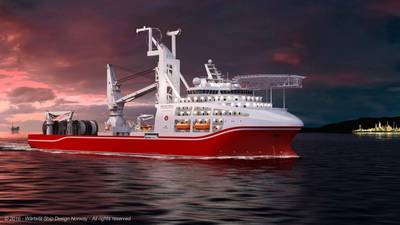 Wärtsilä has signed a contract with Shanghai Bestway Marine Engineering Design Co Ltd to design a new type of deepwater dive support vessel (DSV). The ship is to be built for China state-owned Shanghai Salvage Bureau (SSB), a professional salvage company in China. The contract with Wärtsilä was signed in January.

The Wärtsilä design features a combination of capabilities, including deepwater (6,000 meters) salvage operations, deepwater pipe laying and construction work, and saturation (SAT) diving operations for 24 divers using two diving bells. SAT diving is a technique that allows divers to reduce the risk of decompression sickness when working at great depths for extended periods of time. All the design features are based on a single platform operating with DP3. When built, this will be the world's first SAT diving support vessel with Multi-Lay and ultra deep water construction capabilities, Wärtsilä said.

Wärtsilä's contract with SSB covers initial and basic design of the ship, meaning that class and flag authority related drawings for the purpose of finalizing the necessary approvals and certifications, will be supplied. Wärtsilä will also provide the basic references for future, more detailed engineering requirements for building the vessel.