Delaware River Ship Arrivals Continue Gains in 2016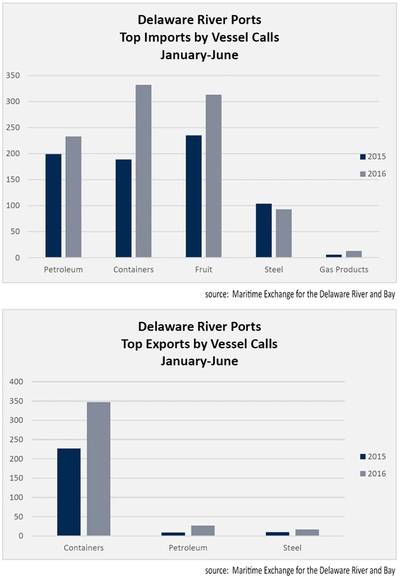 Maritime Exchange for the Delaware River and Bay President Dennis Rochford has announced the tristate port vessel arrival statistics for the first six months of 2016. "On top of last year's increase in vessel arrivals over 2014 activity, we continue to see steady growth through the first six months of 2016," Rochford said.

According to Maritime Exchange records, 1,234 ships arrived at Delaware River port facilities compared to 1,127 arrivals for the same six-month period last year, a 9.5% increase in vessel activity throughout the port. "We're seeing increases in import cargos such as petroleum, containers, and fruit, as well as container, petroleum, and steel export gains," Rochford said.

A 17% growth in petroleum ship arrivals is driven by refineries receiving more crude oil by tanker from overseas and less product by rail from North Dakota and Canada. Changing market factors make it more cost effective to move crude by ship.

The continued expansion of the Marcus Hook Industrial Complex is expected to further this growth. Natural gas liquids shipments, including propane and ethane, from the Marcellus Shale in Pennsylvania continue to spur exports to markets throughout the United States and Europe.

"Clearly, shippers and carriers welcome the deepening of the Delaware River main ship channel from 40 to 45 feet. Knowing this project will be completed in late 2017 has created an industry buzz and a heightened and positive perception among current and prospective port customers," said Rochford.