New Tug Delivered to Vane Brothers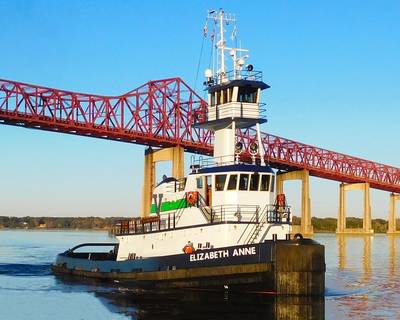 The Vane Brothers Company, a marine transportation provider headquartered in Baltimore, Md., has taken delivery of the Elizabeth Anne, the first in a new series of 4,200-horsepower tugboats. Vane Brothers has ordered a total of eight Elizabeth Anne Class towing vessels through St. Johns Ship Building in Palatka, Fla., with the second in the series, the Hudson, scheduled for delivery this spring.
According to Vane Brothers President C. Duff Hughes, "The 4,200-horsepower Elizabeth Anne Class tugboat is the ultimate workhorse, bringing exceptional power and performance to Vane's growing fleet. We are thrilled with the results coming out of St. Johns Ship Building, and we know that our crews appreciate the comfort, safety and efficiency that are built into each new towing vessel."
Designed by Frank Basile, P.E. of Entech Designs, LLC, the Elizabeth Anne Class tugboat is a close cousin to Vane's Basile-designed Patapsco Class tugboats, 15 of which were produced between 2004 and 2009. Measuring 100 feet long and 34 feet wide, with a hull depth of 15 feet, the model-bow Elizabeth Anne utilizes two Caterpillar 3516 Tier 3 engines, each generating 2,100 horsepower at 1,600 rpm. Two John Deere PowerTech 4045, 99 kW generators deliver service power to the boat, while a third John Deere 4045 teamed with an Allison transmission drives the chain‐driven INTERCON DD200 towing winch.
The Elizabeth Anne is the 27th vessel completed for Vane Brothers under the supervision of Senior Port Captain Jim Demske, whose reputation for delivering superior tugboats that emphasize functionality, crew comfort and safety is widely recognized in the maritime industry. The Elizabeth Anne features the latest in solid‐state, Simrad electronics and handsomely appointed, mahogany upper and lower pilothouses, as well as spacious accommodations for up to seven crewmembers.
Primarily tasked with towing petroleum barges engaged in the North Atlantic coastwise trade, the Elizabeth Anne was outfitted at Vane Brothers' Jacksonville, Fla., location before heading for Conrad Industries' Orange, Texas, shipyard, where Vane's newest 35,000-barrel tank barge, the Double Skin 315, awaited towing to New York City.
The Elizabeth Anne is named for Elizabeth Hughes, who is Vane Brothers' Vice President, the mother of President C. Duff Hughes and the wife of former Vane Chairman Charles F. Hughes Jr. This is the second Vane vessel to be named Elizabeth Anne; the other, recognized as Vane's first tugboat when acquired in 1990, was removed from service in 2014 and donated to the U.S. Merchant Marine Academy in Kings Point, N.Y., for use as a training platform.