Pride's Deep Ocean Clarion Delivered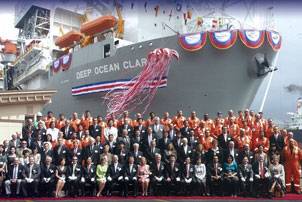 Pride International recently dedicated its ABS-classed deepwater drillship Deep Ocean Clarion at Samsung Heavy Industries Shipyard in Geoje, South Korea. This is the second of four new drillships for the deepwater drilling contractor. Its sister ship, the ABS-classed Deep Ocean Ascension was delivered in February 2010 and has been deployed to the Gulf of Mexico.

The 96,000 dwt Deep Ocean Clarion is capable of dual drilling activity and can drill in water depths of up to 12,000 feet. Other notable features of the drillship include a 165 ton advanced heave-compensated crane, dynamic positioning systems, a 6,000 barrel active fluid storage and handling system and significant storage and deck space.

The Deep Ocean Clarion will be delivered in late September and commence operations in the Gulf of Mexico in the first quarter of 2011. The last two drillships in Pride's newbuild construction program are the Deep Ocean Mendocino with expected delivery in first quarter 2011 followed by the Deep Ocean Molokai expected in the fourth quarter of 2011.