Swedish Ferry Delivered: Knude E. Hansen Designed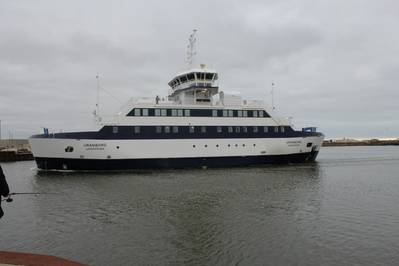 Basic design by Danish naval architects of new double-ended ferry delivered by Hvide Sande Skibs- og Baadbyggeri Shipyard for Swedish route.

The shipyard recently delivered the 50m ferry named Uraniborg to Swedish domestic ferry company Ven-Trafiken for service between Landskrona in Sweden and the Swedish island Hven in the Øresund.

The vessel has been designed as a double-end passenger ferry to carry trucks, cars and bicycles. The main deck is arranged for easy access for pedestrians and bicycles, and the vessel can carry up to 394 passengers and up to 14 cars or 2 trailers and 7 cars.

Uraniborg has also two engine rooms, one located in each end. The two high efficiency azimuth thrusters, one at each end of the vessel, have contra-rotating double screw fixed pitch propeller directly driven by a high speed diesel engine. The Vessel has therefore excellent maneuverability for easy maneuvering in and out of port.
Knud E. Hansen A/S is one of the world's leading marine consultancies with 75 years of experience in ship design, with a proven track record in providing unique and cutting-edge solutions to the maritime industry. Knud E. Hansen A/S employs more than 55 naval architects and marine engineers in Denmark, UK, USA, Greece, Australia and the Faroe Islands.