Second LNG-ready Tanker Delivered to Crowley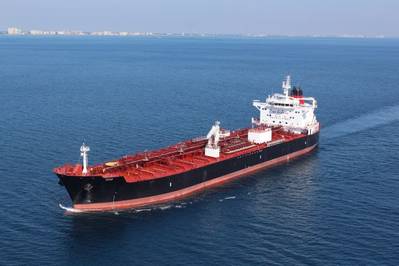 Crowley takes delivery of second of four new LNG-ready Jones Act product tankers from Philly Shipyard, Inc.
Crowley Maritime Corp. has today taken delivery of Texas, the second of four new Jones Act product tankers from Philly Shipyard, Inc. (PSINC), the sole operating subsidiary of
Philly Shipyard ASA
.
The 50,000 dead-weight-tons (dwt), 330,000-barrel-capacity Texas joins sister ship Ohio, which was received by Crowley in October, as the first ever tankers to receive the American Bureau of Shipping's (ABS) LNG-Ready Level 1 approval, meaning Crowley has the option to convert the tanker to liquefied natural gas (LNG) propulsion in the future. The remaining two product tankers being built by PSINC (formerly known as Aker Philadelphia Shipyard, Inc.) for Crowley are under construction with planned deliveries in 2016.
The new 50,000 dwt product tankers are based on a Hyundai Mipo Dockyards (HMD) design which incorporates numerous fuel efficiency features, flexible cargo capability and the latest regulatory requirements. The vessel is 600 feet long and is capable of carrying crude oil or refined petroleum products.
Crowley's Seattle-based, naval architecture and
marine engineering subsidiary Jensen
Maritime is providing construction management services for the product tankers. Jensen now has an on-site office and personnel at the Philadelphia shipyard to ensure strong working relationships with shipyard staff and a seamless construction and delivery program.