Custom Boat Delivered to Port of South Louisiana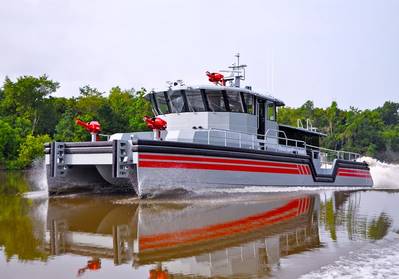 A custom built 75-foot multipurpose port security vessel built by Louisiana-based shipbuilder Metal Shark has been delivered for the Port of South Louisiana.
Based on Metal Shark's Endurance-class catamaran design, the welded aluminum vessel is designed to support fire rescue missions, Command and Control (C2) operations and around-the-clock port security efforts.
Twin Cat C-18 diesel engines in a conventional straight-shaft inboard configuration propel the 75 Endurance's catamaran hull to cruising speeds of 25 knots while yielding a nominal operating range of over 500 miles.
For firefighting, two dedicated drive engines channel up to 6,000 total gallons per minute through an oversized water main where electronic valves divert water to three radio frequency-controlled monitors. Four additional 2.5-inch hydrant connections and a 400-gallon foam reservoir provide flexibility across the full spectrum of firefighting needs.
With a spacious pilothouse offering 360-visibility and comfortable belowdecks quarters offering bunking capacity for six or more crew members, the 75 Endurance is equipped to stay on station for extended periods, the builder said. A state of the art Command and Control suite facilitates multiagency coordination during emergency response events, and a positive-pressure Chemical, Biological, Radiological, Nuclear and high-yield Explosive (CBRNE) ventilation system affords ample crew protection in disaster response situations.
A product of Metal Shark's Franklin, Louisiana shipyard, the 75-foot Endurance can be custom-configured to suit a wide range of mission profiles. Metal Shark said it offers the vessel with a range of power and propulsion systems, including conventional inboards, water jets and pods, to meet various performance requirements. Virtually every vessel feature, from firefighting equipment and capacity, onboard systems, general arrangement, berth capacity, etc. can be adapted to suit the needs of individual customers and agencies. In addition to port security and fire rescue, the 75 Endurance may be configured for dive support, law enforcement, defense and numerous commercial markets. Endurance-class vessels are available from 45 feet and up.