Normand Ranger Delivered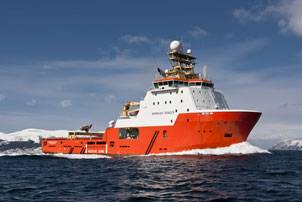 Normand Ranger for Solstad Offshore is delivered from Ulstein Verft May 5. Completion of the anchor handling vessel has been a challenging task but the shipyard delivers the project to the agreed terms within time.

Ulstein Verft won the contract with GIEK and Sparebank 1 SR-Bank for completion of the anchor handling vessel last spring. The ship came to Ulstein Verft from the bankrupt shipyard Karmsund Maritime Service in August 2009.

Normand Ranger type VS 490 AHTS from Wärtsilä Ship Design. It is 298.5 ft long, 72 ft wide, has an interior for 58 persons and has deadweight of about 4500 tonnes.

Normand Ranger is a powerful anchor handling vessel with a bollard pull of 287 tonnes. The vessel is equipped with a Triplex MHD (Multi Deck Handler) and Odim ARF (Anchor Recovery Frame) for safe anchor handling operations on deck.