New Offshore ERRV Delivered Goes Straight to Work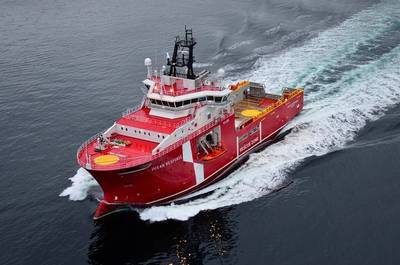 Immediately after the naming ceremony, Atlantic Offshore's 'MRV Ocean Response' heads to North Sea on Statoil charter.
This is the third Emergency Response and Rescue Vessel (ERRV) newbuilding delivered to Atlantic Offshore during the past year, with six more vessels under construction at several shipyards. Atlantic Offshore has gradually taken a strong international position in the market for emergency vessels and supply vessels and these ships are equipped with the latest technology, and contingency services related to fire, oil spill and rescue operations.
Ocean Response was built by Bergen Group BMV in Bergen, and both the yard and the company believe the ship sets a new standard in offshore vessels, being able to handle advanced emergency and rescue operations, as well as the maintenance of loading hoses in the oil field. The cost is about NOK 330-million.
The new ship is a type VS 465 MKII, developed and designed by Wärtsilä Ship Design in cooperation with Atlantic Offshore. She is 75 meters long with an evacuation space for 370 people, equipped with fire emergency (Fi-Fi I and II), 1st line oil spill response, and with a bolloard pull of 120 tons.