Panamax Dry Bulker Delivered to STX Pan Ocean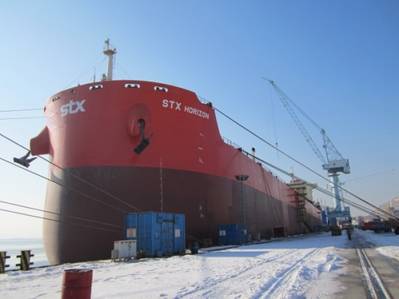 STX Pan Ocean takes over the 83,000 dwt class Panamax, 'STX Horizon', its first new-build delivery of the year.

Having concluded strategic contracts for long-term transportation with domestic and international shippers including POSCO, Hyundai-Steel, KEPCO subsidiaries, Vale and Fibria in Brazil, STX Horizon will be added to the the owner's list of vessels to service these various contracts.

A company official said: "Although current dry bulk shipping market is depressed, about $100 million of profit is expected from operation of 23 private vessels, which will be delivered within this year to carry out long-term transportation contracts, containing 10 ships for Fibria, 6 for KEPCO subsidiary and 3 for Vale. As performance of those contracts will begin in earnest from this year, operating profit is expected to be visible, which will make ends meet, finally after the consistent investment for vessel purchase [sic]."

With the addition of this ship to its fleet, STX Pan Ocean has an owned fleet totaling 95 ships, including 59 bulk carriers, 20 tankers, seven container ships, six car carriers, 2 semi-submersible heavy transport vessels, and one LNG carrier. In addition to this private fleet there are about 300 chartered ships, so that altogether STX Pan Ocean is operating approximately 400 ships.