Tactical Response Vessel Delivered to NYPD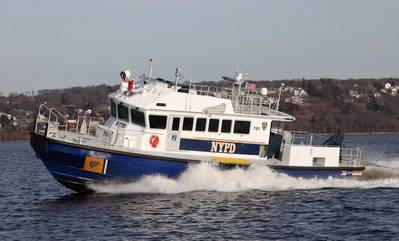 Having delivered its third 61 ft. patrol/rescue boat for the New York City Police Department (NYPD) last year, Gladding-Hearn Shipbuilding, Duclos Corporation, announced it has delivered the first of two 70 ft. Tactical Response vessels for the department's Harbor Patrol Unit.
Measuring 68.8 feet on deck, with a 19-foot beam and 3.8-foot draft, the new high-speed, Tactical Response Vessel features C. Raymond Hunt's deep-V hull and a "squared-off" bow, with fendering and knees installed above the main deck to facilitate bow landings.
Designed and built to respond to terrorist activities from New York City's waterways, the all-aluminum boat is both versatile and highly functional, said shipyard officials. Inside the flush-mounted wheelhouse, its forward-leaning windows in the front and the side and aft windows offer 360-degree visibility. The view is further enhanced from the fly-bridge. The command center, aft of the helm station, includes video monitors, enclosed decontamination showers, and seating for the five crew members. In the forecastle are two berths, storage lockers, a small galley and settees, and an escape hatch in the deck above.
The superstructure, including the fly-bridge, has ballistic-resistant windows and panels installed on the sides, front, back and roof. On the fly-bridge, accessible from the main deck, is an American Safe Room enclosed Nuclear, Biological and Chemical (NBC) filtration system to pressurize the vessel's interior spaces. A 1,500 gpm remote control water cannon is mounted on the pilot house roof.
Along the wide side decks are port and starboard rescue recesses, each equipped with a davit for lifting a Stokes litter-basket stretcher onto the main deck. A guard over the water-jets forms a fixed rescue platform accessible by a hinged grating in the main deck. The forward, side, rescue-recess and aft decks are heated to prevent icing in the winter. On the aft deck is a hydraulic, knuckle-boom crane for launching a tender.
The vessel is powered by twin 12-cylinder MTU-12V2000M94 diesel engines, each producing 1920 Bhp at 2,450 rpm, giving the boat a top speed of over 41 knots, and at 30 knots a range of about 225miles. The engines turn a pair of Hamilton HM571 water-jets through ZF3050 gearboxes. A 30 kW Northern Lights/Alaska Diesel generator provides service power. Twin Humphree interceptor units, each fitted with an automatic trim and list control system, adjust the vessel's running trim and list at various speeds and load conditions.
The heating and air-conditioning, a chilled water/heated loop system, includes a 48,000 Btu chiller and an Espar 16kW diesel heater.