Seajacks Scylla Delivered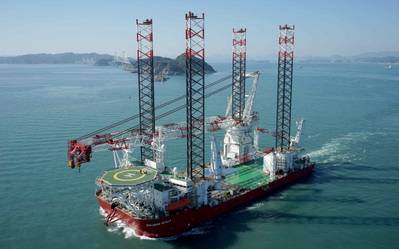 Seajacks Scylla, touted as the world's largest and most advanced wind farm installation and offshore construction vessel, has been delivered by the Samsung Heavy Industries Shipyard in Geoje, Republic of Korea.
Based on the Gusto MSC NG14000X design, the ABS-classed Seajacks Scylla, has more than 8,000 metric tons of available variable deck load. Equipped with a 1,540-metric-ton leg-encircling crane and a usable deck space in excess of 5,000 square meters the unit is outfitted with 105-meter legs with the ability to install components in water depths to 65 meters. The rig is capable of meeting the installation needs of jumbo-monopiles, jackets, and turbines of future wind farms in deeper waters farther from shore.
The Seajacks Scylla complies with ABS classification requirements for self-propelled jackup units, including the DPS-2 for dynamic positioning capability; ACCU, which applies to automatic centralized control unmanned units; and CRC for crane register certificate.
In early December, Seajacks Scylla will begin her journey
from South Korea
to
Europe
on-board the heavy load carrier vessel, HLV Osprey, and is expected to arrive in Rotterdam around the end of January. Seajacks operations teams will then prepare the vessel for her first project next spring.
Scylla's first job in the UK will commence in 2017 for DONG Energy at the Walney Extension offshore wind farm
Since 2009, Seajacks has invested in five self-propelled jackup units, all of which have been classed by ABS.