Container Crane Russian Deliveries, Contracts, for Liebherr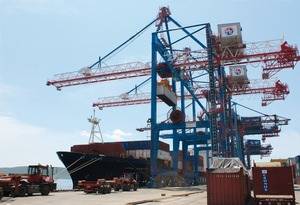 Liebherr Container Cranes recently delivered 2 panamax STS cranes to Vladivostok & has orders from two other Russian ports.

The cranes delivered to the JSC Commercial port of Vladivostok have gone into operation at the port and join a pair of Liebherr RMG cranes in operation since 2011. The new cranes have an outreach of 38m, a back reach of 11m and have a span of 15.3m.

The 60t twinlift cranes have a spreader height over rail of 28m and all drives are Liebherr A.C. Both cranes feature remote diagnostics which can be accessed from the port or from the Liebherr Container Cranes service department in Ireland.

Meanwhile Liebherr has taken an order to deliver a second Post Panamax crane to JSC Nutep in Novorossiysk. This crane has an outreach of 46m, a backreach of 15m and a span of 15.24m with a S.W.L. of 50 tonnes under a single lift spreader. Remote diagnostics and crane to crane anti-collision systems will be supplied with the crane.

For St. Petersburg, Liebherr has signed a major contract with OJSC Petrolesport for the supply of 3 Panamax Ship to Shore cranes. The cranes have an outreach of 38.5m, a backreach of 15m, a span of 22.5 m and a S.W.L. of 50t with a single lift telescopic spreader. The spreader has a lift height of 28m over rail and can hoist at speeds of 60m/min to 140m/min and is capable of trolley speeds of 180m/min. The drives on the cranes are Liebherr A.C. and the cranes can gantry at 45m/min.