Kalmar Delivers ASC cranes for TraPac in Los Angeles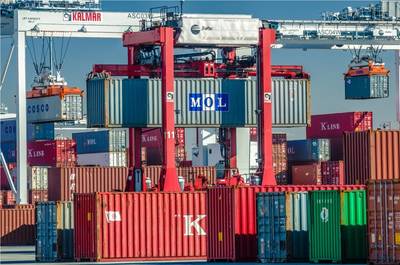 Kalmar, part of Cargotec, has received an order from TraPac, Inc. to deliver two new 5th generation Kalmar automatic stacking cranes (ASCs) for the expansion of TraPac's automated terminal in Los Angeles. The cranes will join a fleet of 27 Kalmar ASCs and 28 Kalmar automated straddle carriers managed by the Kalmar TLS equipment control system. The new ASCs will be delivered in 2016 and they are expected to be commissioned by the end of 2016.

Troy Thompson, Vice President, Ports and Terminals, at Kalmar Americas, commented, "Our partnership with TraPac has led to the development of the 5th generation Kalmar ASC, which combines together all the experience gained during the first phase of the project. The new crane will be lighter and more efficient, it uses less energy and is easier to maintain. Thanks to Kalmar's unique automation testing platform, the cranes will be fully tested prior to delivery, which will help reach the operational performance quicker with shorter commissioning and integration testing time."

Kalmar and TraPac partnered about four years ago when TraPac decided to modernise the terminal and introduce automated operations among the first terminals in the world.

End-to-end efficiency is achieved at TraPac's terminal through a combination of Kalmar automated stacking cranes, automated straddle carriers and automated truck handling, all integrated to operate in an optimal manner with Kalmar terminal logistic system. Conversion to automation has been done step by step maintaining both the existing manned operations and automated container handling operations while carrying out the terminal development.

TraPac, a subsidiary of Mitsui O.S.K. Lines Ltd., has been operating in the busy port of Los Angeles, USA, for over two decades.

====================================================

Tideland Racons for GLAs of UK & Ireland (Tideland Racons)

Tideland Signal Corporation (Tideland) has been awarded a contract to supply its SeaBeacon 2 System 6 RACONs, the industry leader for reliability, accuracy and low power to the General Lighthouse Authorities (GLAs) of the United Kingdom and Ireland on behalf of Trinity House in accordance with the current E.U. Procurement legislation and the Public Contract Regulations 2015.

The contract was awarded under the terms of a joint-GLA framework agreement, which includes the Commissioners of Irish Lights (CIL) and the Northern Lighthouse Board (NLB) as well as Trinity House.

Following in depth testing of a number of different Radar Beacons, Tideland was awarded a contract to supply RACONs to the GLAs for four years with an option for an additional year. This is a continuation of the contract that Tideland has had with the GLAs for the supply of RACONs from 2011 to 2015, during which time over 70 units were supplied. Tideland's SeaBeacon® 2 System 6 dual-band RACON offers exceptional dynamic range, sensitivity of -50dBm

for both X- and S- Band, and output, together with extremely economic power consumption, making it highly suitable for remote, solar-powered installations as well as offshore and mains-powered installations. It can respond simultaneously and with a unique level of frequency accuracy to both X- and S- band radars, even those with very narrow receiver bandwidths. The design gives operators an exceptionally clear indication of its identity and location and proportional scaling ensures that the RACON trace remains clearly visible on radar displays regardless of the range scale selected.