Austal Delivers U.S. Navy Ship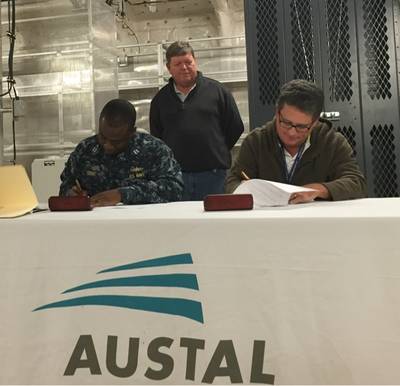 Austal USA delivered the nation's sixth Expeditionary Fast Transport vessel, USNS Brunswick (EPF 6), to the U.S. Navy here Jan. 14, 2016. The Expeditionary Fast Transport (EPF) program, formerly named the Joint High Speed Vessel (JHSV) program, provides the Navy with a high-speed intra-theater transport capability. The Brunswick is a 338-ft. long aluminum catamaran capable of transporting 600 tons 1,200 nautical miles at an average speed of 35 knots, and is designed to operate in austere ports and waterways, providing added flexibility to U.S. warfighters worldwide. The ship's flight deck can also support flight operations for a wide variety of aircraft, including a
CH-53 Super Stallion
. This is the sixth ship in a 10-ship, $1.6 billion block-buy contract.
Upon delivery of USNS Brunswick, there will be three Spearhead-class EPFs under construction at Austal's Mobile, Ala. shipyard. The future USNS Carson City (EPF 7) was christened Jan. 16, 2016, and is slated to launch early next week. Modules for the future USNS Yuma (EPF 8) and USNS Bismarck (EPF 9) are under construction in Austal's
module manufacturing facility with
the construction of Burlington (EPF 10) scheduled to begin in early 2016. EPF 11 and 12 have been fully funded by Congress in the 2015 and 2016 Omnibus Appropriations Bills. The Navy awarded Austal a $54 million contract in October to fund long lead materials for EPF 11.
In addition to the EPF program, Austal is also under contract to build Independence-variant Littoral Combat Ships (LCS) for the U.S. Navy. Three LCS have been delivered while an additional six are in various stages of construction.