FSG Delivers 'Swiss Army Knife' Cargo Carrier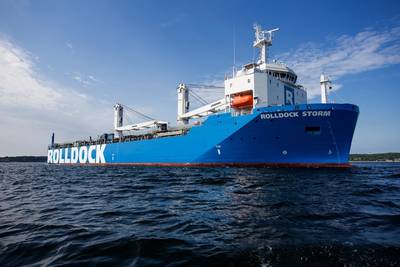 Flensburger Schiffbau-Gesellschaft (FSG) says it has delivered a second multi-purpose cargo ship, named 'Rolldock Storm' to Dutch shipping firm RollDock BV.
The two versatile new ships, Rolldock Star and Rolldock Storm are 151.5 metre-long, multi-functional, specialised ships designed to transport challenging, heavy loads which do not fit traditional cargo transport moulds.
FSV explains that the vessels stand out particularly because of their maximum flexibility and offer a range of different loading and unloading possibilities. Two heavy- duty cranes move cargo weighing up to 700 tons. In addition they boast height-adjustable stern ramps as well as hatch covers which can also be adjusted, making the two ships adaptable to piers of differing heights when in port.

Individual loads of up to 3,000 tons can be taken on-board or offloaded in classical RoRo mode. In addition however the 8000 ton deadweight ships can be submersed by about six metres, meaning that cargo can also be floated in and floated out.

FSG Chief Peter Sierk said: "This [delivery] demonstrates that we are now clearly moving in an extremely demanding and very specialist sector. Ships like this, as well as individual offshore ships, are now the future of FSG and follow on from our successes in the RoRo sector".
He added that the entire work force in Flensburg had demonstrated it was possible to successfully deliver excellent ships despite the highest of demands. "Rolldock has told us that they are very satisfied with STORM and STAR", said Sierk. "In addition we know that STAR is performing splendidly in daily operation and that everyone at Rolldock is full of praise for our work."