VT Halter Marine Delivers Final ATB to Crowley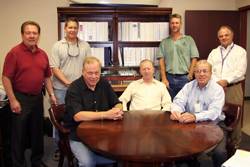 VT Halter Marine, Inc. (VT Halter Marine), a subsidiary of VT Systems, Inc. (VT Systems), announced the delivery of the final in a series of ten 185,000-barrel articulated tug barge (ATB) units built for Crowley Maritime Corporation's subsidiary, Vessel Management Services, Inc. (Vessel Management Services). Since construction of the first unit in 2005, all ten 185,000-barrel barges have been built at VT Halter Marine's Pascagoula Operations while the 9,700-hp tugs were built at its Moss Point Marine Operations.

Barge 650-10, like its sister vessels (650-1 thru 650-9), is certified by ABS Classification Society to comply with the International Maritime Organization's (IMO) Green Passport program. Additionally, 650-10 has a Crude Oil Washing (COW) system whereby oil tanks are cleaned out with crude oil, instead of water; which makes the cleaning process far more effective. The COW system is mandatory on new tankers under the International Convention for the Prevention of Pollution by Ships (the MARPOL Convention). All of Crowley's ATBs are built under the ABS SafeHull program for environmental protection.

The 650-Class barge measures 587 feet in length, 74 feet in breadth, and 40 feet in depth. It has a fully-loaded draft of 30 feet and a 27,000 dwt capacity. VT Halter Marine has a separate contract with Vessel Management Services to design and build three 330,000-barrel, 750 series ATB barges.