VT Halter Delivers ConRo Ship to Pasha Hawaii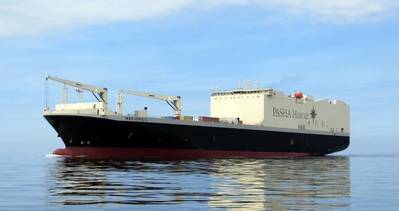 VT Halter Marine, Inc., a company of Vision Technologies Systems, Inc. (VT Systems), announced it has delivered a combination container and roll-on/roll-off car truck carrier (ConRo), MV Marjorie C, to
Pasha Hawaii
.
The MV Marjorie C is the second U.S. Flag, Jones Act-qualified vessel built for Honolulu-based Pasha Hawaii and will join her sister ship, the MV
Jean Anne
, providing additional service to Hawaii via the Hawaii/Mainland trade lane.
The 692 feet long MV Marjorie C features vehicle shipping capacity of 1,100 units, the ability to carry 1,400 TEUs above and under deck and over-high/over-wide cargoes on 10 workable decks. The MV Jean Anne, also built by VT Halter Marine, was Pasha Hawaii's first Jones Act vessel and has been servicing the Hawaii/Mainland since March 2005. The vessel and her crew have been recognized by the Chamber of Shipping of America with outstanding safety and environmental achievements awards.
These ships will allow Pasha Hawaii to provide its customers with a wider offering of scheduled shipping and logistics services for containers, refrigerated containers, and a variety of roll-on/roll-off cargoes.
"Constructed in the U.S., manned by U.S. crews and built with state-of-the-art technical capabilities by the skilled men and women of VT Halter Marine, Marjorie C is an essential addition to our fleet, providing streamlined, environmentally friendly capacity to the trade," said George Pasha, IV, president and chief executive officer at Pasha Hawaii.
VT Halter Marine's chief executive officer, Bill Skinner, said, "VT Halter Marine is proud to have delivered the MV Marjorie C to our very valued customer, George Pasha and the entire team at Pasha Hawaii. This delivery could not have been accomplished without the team efforts of our two companies. We look forward to continuing our relationship as they grow their business with the acquisition of Horizon Lines which is expected to take place by the end of the second quarter 2015."