BCGP Delivers Two RHIBs to Jordan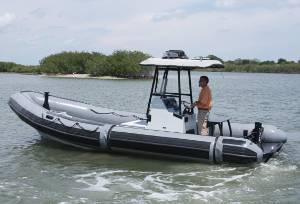 Brunswick Commercial and Government Products (BCGP), a division of Brunswick Corporation, recently delivered two 750 Impact rigid hull inflatable boats (RHIBs) to the country of Jordan. The boats will be used for dive and rescue operations at popular dive spots in the area. The two RHIBs are each powered by a Cummins 5.9L 355 hp inboard diesel engine, and propelled by Ultra Jet 305 water jets. The boats feature a hydraulically-actuated dive door designed to easily bring injured divers on backboards into the boat for medical attention and transport.
The dive door was developed by BCGP's engineering team and is a patent-pending new option available on all BCGP Impact RHIBs. The boat also features a reinforced stainless steel gun mount at the bow for a 7.62mm firearm. At the aft end of each boat, a full-length aluminum swim platform doubles as a jet guard. An aluminum transom cap accommodates a tow post and built-in mooring bits. A FLIR infrared night vision camera is mounted on the T-top for spotting swimmers in low-light conditions.
Specifications
• LOA (including tube) 24'7" (7.5 m)
• Beam (including tube) 10'1" (3.1 m)
• Weight (no engine) 2,734 lbs (1240 kg)
• Person Capacity 15
• Max Horsepower 300 hp (223 kW)
• Fuel Capacity 100 gal (379L)
• Engine Cummins 5.9L 355 HP
• Jet Ultra Jet UJ305