Keppel Delivers First Rowan Rig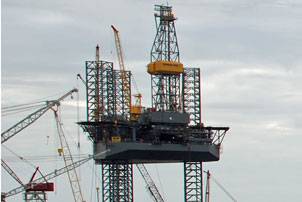 Keppel AmFELS Inc., the US wholly-owned subsidiary of Keppel Offshore & Marine Limited (Keppel O&M), has delivered the first of four EXL rigs to Rowan Drilling Company, Inc. (Rowan) safely, on time and within budget.

The rig, christened Rowan EXL I at the yard last Saturday, is expected to be deployed for work immediately after delivery to serve a 10-month contract with McMoRan Exploration Company in the US Gulf of Mexico.

Keppel AmFELS is currently constructing three other similar newbuild jackup rigs for Rowan. The construction of these rigs is progressing well and is within schedule and budget.

Built as an enhancement of the LeTourneau Super 116E design, the ABS-classed rigs employ the latest state-of-the-art technology to drill high-pressure, high-temperature and extended-reach wells in jackup markets throughout the world and are capable of operating in 350 feet of water or more and drilling to a depth of 35,000 feet.