Keppel FELS Delivers 11th Jackup to Mexico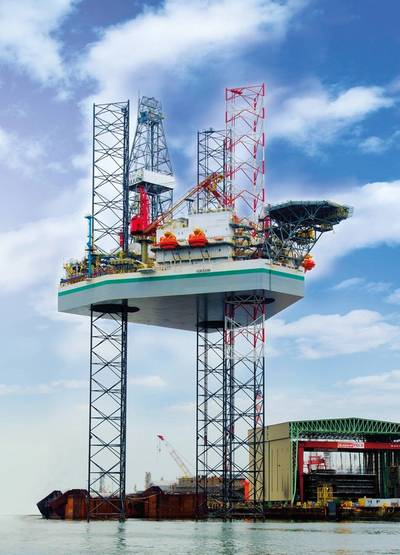 Keppel FELS Limited (Keppel FELS), a wholly owned subsidiary of Keppel Offshore & Marine Ltd (Keppel O&M), has delivered a KFELS B Class jackup rig to Mexican national oil company, Petróleos Mexicanos (PEMEX), safely, on time and on budget.

The rig was named Kukulkan by Lady Sponsor Mrs Valerie Pahl-Hernandez, wife of Mr Gustavo Hernandez Garcia, Director General of PEMEX Exploration & Production, at a ceremony at Keppel FELS this evening.

Kukulkan is the second jackup rig Keppel has built directly for PEMEX. It will join sister rig, Yunuen, which was delivered earlier this year, and another nine jackup rigs that PEMEX has chartered from drilling contractors for deployment in offshore Mexico. Keppel also has another seven KFELS B Class jackup rigs currently under construction for Mexican companies.

The KFELS B Class jackup is designed to operate in water depths of up to 400 feet and drill to depths of 30,000 feet. Developed by Keppel's Offshore Technology Development (OTD), the KFELS B Class jackup is equipped with an advanced and fully-automated high capacity rack and pinion jacking system, and Self-Positioning Fixation System. It has accommodation with full amenities for 120 persons.

Keppel's partnership with PEMEX was developed since 2004 when it was awarded a contract to build two accommodation modules for them. Besides building new jackup rigs for Mexico, Keppel has also repaired and serviced a total of 18 rigs that have been deployed by PEMEX.