Kvichak Delivers Two Vessels to Tymac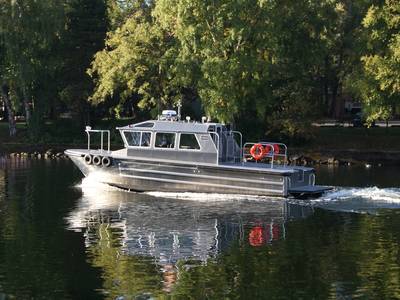 Kvichak Marine delivered two all-aluminum 36.6' Crew / Pilot Boats to Tymac Launch Service, Ltd. of British Columbia, Canada.
The vessels were designed by Kvichak for the specific use of transporting 12 or fewer passengers for BC coast pilots, government officials, ships agents and surveyors, longshoremen, repair crews etc. The areas of operations include Vancouver Harbor, Indian Arm, Howe Sound, the Fraser River and Southern Gulf of Georgia Strait.
Powered by twin John Deere 6090SFM85 diesel engines rated for 425 bhp and ZF 305-3 marine gears. The engines are coupled to Hamilton 322 waterjets providing a speed of 35 knots.
Additional vessel features include:
Length (overall): 39' 11"
Length (molded): 36' 6"
Beam (overall): 13' 6"
Draft: 2' 4"
Fuel capacity: 240 gallons
Speed (design load): ~35 knots
Cargo capacity (aft deck): 1,000 lbs
Seating: 1 crew and 12 passengers
Cabin heat
Duramax D rubber fendering