Damen Delivers Modular Cutter Suction Dredger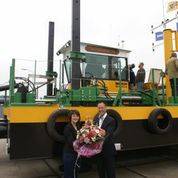 On June 1, the Cutter Suction Dredger Susanna II was handed over to its owner, Dutch dredging contractor Verboon Maasland.
All members of the Verboon team were present with their families to celebrate the completion of the vessel and inspect the dredger: a renewed acquaintance. The Susanna II is the second stationary dredger for Verboon Maasland. The first one, Susanna, was also built by Damen Dredging – yet this was some 32 years ago. The new dismountable dredger is a copy of the first one – however with 21st century customized outfitting.


On land and afloat
The small cutter suction dredgers are provided with a 250 mm diameter discharge pipeline and have a dredging depth of max -6 m. The divisible swing ladder has a total length of 18 m, resulting in a swing width of 28 m. Moreover, the spud carriage installation has a 2 m stroke and spuds which can work both on land and afloat. The main pontoon contains the engine room with a 254 kW Caterpillar diesel engine powering the Damen Dredge Pump. The generator set and the hydraulic unit can be found here, too.


Easy transport
The ergonomically designed control cabin has excellent view on the fore deck and swing ladder. The control cabin is dividable and the spuds can be tilted – keeping the maximum height of the full dredger under 1.5 m for swift bridge passages. This requirement is imperative due to many small scale dredging jobs to carry out with plenty of low bridges to pass. For transport reasons, the modularly designed dredger comes apart in a main pontoon, four side pontoons, the control cabin, the spuds and the divided cutter ladder, which all are transportable by road.


First job
The new stationary dredger was baptized by Christine Verboon, the youngest lady of the 3rd generation of the Verboon family, who named the CSD after grandmother Susanna, the wife of the company's founder. After the ceremony and a thorough inspection of the vessel by enthusiastic members of the Verboon team and family members, Susanna II has started on her first job: cleaning the Westfriesche Vaart near Medemblik, the Netherlands, together with her sister vessel.