Kvichak Delivers Skimmer to Portugal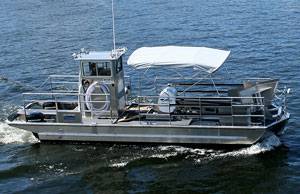 Kvichak Marine Industries has recently delivered a 30-ft Rapid Response Oil Skimmer fitted with a Kvichak/Marco Pollution Control CL-1 Filterbelt oil recovery module to Administração do Porto de Sines (APS), Portugal.

This is the second skimming vessel fitted with the Kvichak/Marco Filterbelt in the APS response fleet, the first was delivered in 1976 and is still in service. Construction of the skimmer was supervised at Kvichak Marine in Seattle by representatives of APS, and the vessel was delivered early, in less than 10 weeks from contract execution.

The Kvichak 30-ft rapid-response skimmer is a high quality, shallow-water capable, near shore skimming vessel and is ideally suited for use on oil spills in waterways, bays, and harbors. The all-aluminum skimmer is 30.3-ft long, with a beam of 8 ft, and a draft of 2.5 ft and is easily trailered. Powered by twin 60-70hp outboards, the skimmer is capable of a response speed of over 17 knots, and a recovered oil capacity of 1000 gallons of recovered product. Recovery rates are up to 427 bbls/hr for groups 3&4 persistent oils. This highly specialized skimming system is adaptable to a variety of marine spill scenarios and is able to recover a very wide range of spills, from light sheens to thick weathered oils contaminated with debris.