Blount Boats Delivers Sister Ship to Wendella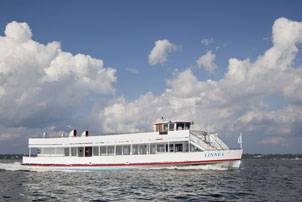 The 89-ft steel excursion boat, Linnea built by Blount Boats for Wendella Sightseeing Company was completed and accepted on July 20, 2010. The vessel was delivered to Chicago via Erie Canal and began service on July 30th. The delivery for the Linnea is especially timely on account of the fact that Wendella Sightseeing, Chicago's original tour boat company is celebrating its 75th season as one of the city's premier sightseeing and tourism venues.

The new Linnea was designed by Timothy Graul Marine Design of Sturgeon Bay, Wis., and is a sister vessel to the Wendella built by the Blount shipyard in 2007. It is powered by twin screw Caterpillar engines and will accommodate up to 340 passengers for architectural tours on the Chicago River. The two deck vessel was designed with climate controlled main cabin, granite bar top and is equipped with an entertainment and security system. The new vessel is certified by the U.S. Coast Guard under Subchapter "K" for lakes, bays and sounds less than one mile from shore.

The M/V Linnea marks the 330th vessel to be built by the Blount shipyard, which has been in operation since 1949. The Wendella Sightseeing fleet now operates a total of seven boats, of which Blount has built three, Ouilmette, Wendella and Linnea.