Pier Demolition Makes Way for Ferry Terminal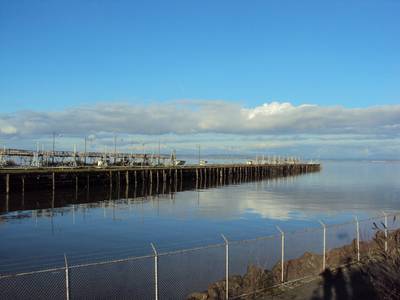 Pier removal to eliminate 4 percent of toxic creosote left in Puget Sound
Demolition of the Mukilteo tank farm pier has begun. The work makes way for a new terminal to replace Washington State Ferries' existing, 60-year-old facility in Mukilteo. The project will result in a cleaner Puget Sound by removing 7,000 tons of toxic creosote-soaked timber piles, about 4 percent of the remaining creosote in the sound.
"This is a significant milestone for the project. Once the tank farm pier is removed, we can begin building the new terminal, bringing us one step closer to a modern, seismically sound ferry terminal," said Terminal Engineering Director Nicole McIntosh."
The Mukilteo Multimodal Project will bring critical improvements to the Mukilteo/
Clinton ferry
route, the state's busiest for vehicle traffic, carrying more than two million vehicles and nearly four million riders annually. The new ferry terminal will separate pedestrians and vehicles for safer, more efficient loading. Its location near the Mukilteo Sounder Station will improve access to transit. The terminal will also be designed to better withstand earthquakes.
Design of the new terminal is currently underway and WSF will seek public input at open houses this fall.
"Getting to this point is a direct result of the strong collaboration between WSF and our local, state, federal and tribal project partners," said Lynne Griffith, Assistant Secretary for Washington State Ferries. "I think I speak for all involved when I express my excitement that we are on our way to building a new ferry terminal in Mukilteo."
During construction, the work area and surrounding waters are closed to divers and other recreational users.
The Washington State Legislature recently approved funding to complete construction of the terminal. The $129 million Mukilteo Multimodal Project will be paid for by a mix of federal and state funds. The new terminal is set to open in 2019.