ZF Marine LLC takes delivery of ZF POD 4000 demonstration vessel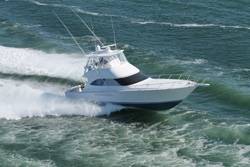 ZF Marine has taken delivery of a new 50 foot Viking Sportfishing yacht. The purpose of this vessel will be to demonstrate the ZF POD 4000 propulsion system. The vessel is equipped with two Caterpillar C18 engines each producing 1150 bhp. These engines are mated to ZF 500 series transmissions, which are connected to the POD units via Centa carbon fiber driveshafts. The ZF POD 4000 drives are the highest rated propulsion pods in the market today, rated to 1200 bhp.

Control for the ZF POD 4000 comes from ZF Marine's well established SmartCommand control system, with JMS (Joystick Maneuvering System) and SteerCommand electric steering. "Viking's long-time association with ZF Marine made us the logical choice for this collaboration," said Patrick Healey, executive vice-president, Viking Yacht Company. "Starting with our 47-year history of producing world class sportfishing yachts that combine performance and luxury, the Viking 50 convertible proved to be an able platform for this test of the new ZF POD 4000 propulsion system."

Initial sea trials have been very positive. Top speeds are in the 40 plus knot range with efficient and impressive fuel burn numbers, along with the outstanding maneuverability inherent in pod-drive propulsion systems incorporating joystick control. "ZF Marine is very proud to take delivery of this very special vessel" said Wolfgang Schmid President and General Manager, ZF Marine LLC. "This new Viking is a showcase of our technology that allows our customers to experience a complete propulsion solution from ZF Marine." He continued.

The ZF POD 4000 Viking has recently participated in the Pirate's Cove and Mid Atlantic 500,000 fishing tournaments. The purpose of which was to demonstrate the ZF POD 4000's ability in the competitive sport fishing environment. The vessel is currently on an east coast tour that will include stops at the Annapolis, MD Boat Show, and the Fort Lauderdale International Boat Show. You can follow the ZF POD 4000 Viking on Facebook at www.facebook.com/zfpod4000. ZF Marine LLC would like to recognize the following companies for their assistance with this project:
Caterpillar Marine – Engines – www.marine.cat.com
Centa - Carbon Fiber driveshafts - www.centa.info
GPLink – Vessel and Systems monitoring – www.gplink.com
KVH Industries - Satellite Television – www.kvh.com
Underwater Lights USA – Transom lighting – www.seavision.com
Winslow Liferaft – Liferaft – www.winslowliferaft.com
Ocean Systems Inc. – Underwater and cockpit camera – www.splashcam.com
Release Marine – Helm Chairs and Gimbal Launcher – www.releasemarine.com
Edson International – Custom steering wheel – www.edsonintl.com