Elandra Yachts Expands, Launches Finishing Department
Posted by Michelle Howard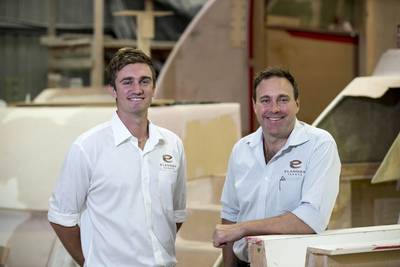 Elandra Yachts has added another layer of craftsmanship to its boat-building operation with the launch of a new in-house paint department at the Gold Coast plant, signalling further growth for the Australian luxury motor yacht brand.

Renowned for the range of spectacular bronzed and golden hues gracing the hulls of its show-stopping vessels, Elandra Yachts will now detail and finish each model in-house, ensuring the company's exacting standards are maintained as the factory increases production to meet high international demand.

In line with the company's recent team expansion announcement, Elandra has appointed a new unit of skilled painters and detailers to manage painting operations internally.

Committed to ensuring each release embodies Elandra's signature superyacht styling coupled with superior engineering, the company has also invested in the latest specialized equipment for the new department.
Elandra Yachts managing director Luke Durman said every yacht commissioned would now be designed, crafted and finished in-house, with the new
paint department tasked
with customising Elandra's signature colour palette.

"Our recent success in the marketplace has been underpinned by our high-quality craftsmanship and design," Durman said.

"Elandra is committed to always improving our boat-building systems and procedures, by investing in our employees and our craftsmen.
"We are now in the position to bring our painting and finishing on-site, which means every Elandra we manufacture, is crafted entirely in-house from the concept design on paper to finishing touches on the
end product
."

Since the launch of the first Elandra 53 marque in 2014, Elandra Yachts has garnered a reputation as one of Australia's most exciting high-end marine brands, with construction now underway on the second model, the Elandra 49, and plans to develop a new 60-foot model under wraps.

The company has already welcomed several new employees this year, as the local marine industry fields a resurgence in demand for high quality luxury motor yachts amid a strong export market.
With $3.5 million committed to research and development over the next two years, Elandra currently employs 25 staff from its 3,000sqm yard at Arundel.