Wärtsilä Bags Seawater Desalination System Orders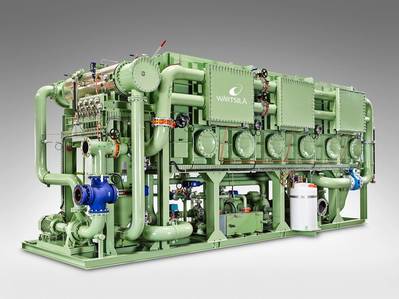 The Meyer Werft Germany, Meyer Turku, STX France and Fincantieri shipyards have all placed orders with Wärtsilä for the supply of fresh water generators to a total of seven cruise ships. The orders were placed between September and November 2014, and delivery is scheduled to commence in May 2015 and will be completed by autumn 2017.
Wärtsilä's delivery comprises a total of 10 large MSF distillation systems with unit capacities spanning from 115 tons/day to 900tons/day, and four Single Stage Desalination systems (SSD) with unit capacities of 30 tons/day.
The Wärtsilä Serck Como fresh water generators produce the fresh water needed onboard a cruise ship for deck washing, laundry, cabins, swimming pools and technical applications that need high quality water. The evaporators, which employ the multi stage flash (MSF) principle, utilize the waste heat from the ship's main engine in order to evaporate seawater in multiple stages under vacuum. Every consecutive stage has a slightly lower pressure, which leads to
high energy efficiency
.
According to Wärtsilä , the MSF evaporator produces fresh water at constant high quality and reliability as the process is independent of changing seawater temperatures, and very tolerant to impurities (e.g. algae) in the seawater. The end product posesses low salt content (less than 5ppm).
Vesa-Pekka Virkki, Managing Director, Wärtsilä Serck Como , said, "Major cruise ship owners are already using Wärtsilä Serck Como evaporators on their vessels and are clearly satisfied with the reliability and quality of the fresh water produced by our solutions. This is evidenced by the fact that more than 130 cruise ships in global operation have our evaporators on board." Virkki noted that benefits
include improved energy efficiency
, flexible design and easy maintenance.