Titanic ll Project Drawings Described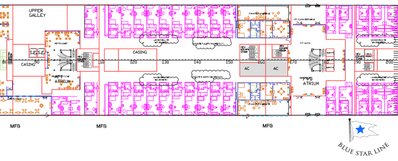 Chairman explains preliminary plans & drawings for the Titanic II project devised by Finnish-based Deltamarin
The Titanic II Preliminary General Arrangement Plan and Preliminary Midship Section Drawing depicts nine decks complete with first, second and third class, officer and crew accommodation as well as the insertion of a new 'Safety Deck'.
Chairman of Blue Star Line, Professor Clive Palmer, indicated the plans from Deltamarin for his shipping company Blue Star Line represent a significant milestone for the Titanic II project. "These plans underline the commitment and progression Blue Star Line has for the Titanic II project," he said.
He said from deck D upwards Deltamarin have managed to keep the public rooms, passenger stairs, cabins and other features in similar locations as in the original ship.
"The Preliminary General Arrangement plans depict the original separation between first, second and third class, which will be kept in the ship's final design," Professor Palmer said.
"To ensure Titanic II is compliant with all current safety and construction regulations, a new 'Safety Deck' has been inserted between D and C decks and will feature proper lifeboats, safety chutes or slides as well as new common public rooms.
Palmer reaffirmed the first voyage remains set for late 2016, with the intention for Titanic II to sail from China, where CSC Jinling Shipyard is to construct the ship, to England before her maiden passenger voyage retracing its original journey.