Robert Allan Designed M.V. Vortex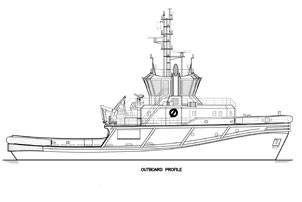 Solent Towage Ltd. of Southampton, UK, a division of Østensjø Rederi AS of Haugesund, Norway recently took delivery of their latest high-performance tug from Astilleros Gondan SA. The aptly-named Vortex is designated as an AVT 37/80 Class, and is the latest of the AVT series of Voith-powered escort tug designs from Robert Allan Ltd., Naval Architects of Vancouver BC.

The Vortex was designed to perform a wide range of tasks, including: ship-handling, tanker escort, ocean towing, salvage and anchor handling duties. Accordingly, the design is somewhat unique for a true tractor, where the "stern" is heavily fendered for ship-handling operations, but then is also fitted with a stern roller and Karm-Forks etc. for the onerous anchor-handling operations. The aft end geometry is thus also quite different to other tugs of this AVT series, with a much broader stern.

Vortex is classed for unrestricted duty and accordingly was built to Det norske Veritas Class notation 1A1 Tug, E0, OilRec, Fi-Fi I, Escort (130/10). The tug is fully equipped for fire-fighting, Oil Recovery, and salvage operations.

Propulsion comprises a pair of Wärtsilä 8L26 diesel engines, each rated 2650 kW at 900 rpm, and each driving a Voith Model 32R5/265-2 drive unit. With this propulsion system, the vessel performance satisfied all expectations, with a recorded Bollard Pull of 73 tonnes and a free-running speed of 14.5 knots. The indirect steering and braking force capabilities have been fully analyzed and are predicted at 130 tonnes steering and 170 tonnes braking at 10 knots, but these values are awaiting verification by full-scale measurement.

The complement of outfitting and deck gear on Vortex is impressive in this size of tug. The working deck is dominated by a double drum, side-by-side hydraulic-driven towing/hawser winch; Karmoy model M361783, with the following specifications:
Pull/Brake force - 200/300 tonnes
Working Wire - 1 x 150m, 51mm
Escort Hawser - 1 x 200m synthetic HMPE
Towing line - 1 x 1000m, 57mm wire

Also fitted are: a unique hydraulically retractable escort towing staple, a forward combination windlass/hawser winch, Karm Forks, a 1400mm diameter x 2960mm long stern roller, two 9 tonne tugger winches, a spill containment boom winch with 200 meters of 950 mm deep boom, spare towline reels, and an EFFER 44000-3SL hydraulic knuckle-boom type deck crane of 36 tonne-metre capacity.

Like the majority of its counterparts in the Østensjø fleet, Vortex is outfitted for an operating crew of up to ten (10) persons. Facilities on board include spacious crew rooms for the full complement in four (4) single and three (3) single/double cabins (with Pullman berths), all with individual en-suite toilet and shower facilities. Public spaces include: a generous combined lounge/mess area, a ship's office, a gymnasium, and a large wet-gear/locker room.

Electrical power is derived from a pair of Volvo Penta D7A-BTA diesel gen-sets, each rated 139 kW at 1500 rpm. The fire pumps are rated 1500 m3/hour each, both driven from main engine front PTO's.