BAE Ships Last Two RAN Destroyer Blocks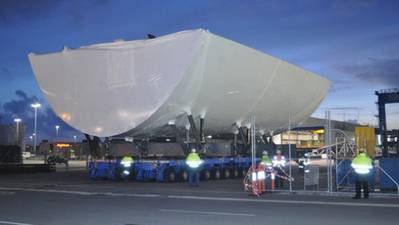 A further two Air Warfare Destroyer (AWD) blocks manufactured by BAE Systems in Williamstown have been shipped to Adelaide.
The final blocks make nine altogether since the first block was delivered in August 2011. With this shipment, BAE Systems has completed work on all AWD Ship 1 and Ship 2 blocks that they have been contracted to complete. Block 415 is a hull block and weighs 117 tonnes. Block 111 is a keel block weighing 112 tonnes.
BAE Systems Director Maritime Bill Saltzer said the company's AWD Project Team had again demonstrated their capability to deliver a quality product on schedule. Both blocks 415 and 111 were accepted by AWD lead shipbuilder ASC following inspections at the Williamstown shipyard prior to shipment to Adelaide.

 "I'd like to congratulate everyone involved in the production of these blocks for the tremendous success they have achieved in both quality and productivity on this project. I would also like to thank our customer, ASC, for working with us in close co-operation throughout the process of planning, fabricating and inspection of the blocks.
"
Saltzer continued: "Our production performance has improved drastically since we began this project. This clearly demonstrates that investment in capability development can be challenging at first, but it pays significant dividends over time as long as you can continue to apply that capability on current and future projects."