GD Bath Ironworks to Build Four DDG 51 Destroyers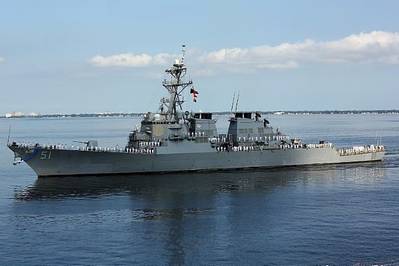 The U.S. Navy has awarded General Dynamics Bath Iron Works a contract valued at US$2.8-billion for the construction of four Arleigh Burke-class destroyers, with an option for a fifth ship.
"This contract adds four ships to our workload in a fiscally challenging and highly competitive environment, and provides a clearer picture of our near-term future," said Jeff Geiger , president of Bath Iron Works. "Continuation of the DDG 51 program provides important work for the men and women of Bath Iron Works and allows us to extend our record of delivering these critical surface combatants to the U.S. Navy."

The option for the fifth ship, if exercised, would bring the total value of the contract to approximately $3.5 billion.
There are currently two DDG 51 destroyers in production at Bath Iron Works, Rafael Peralta (DDG 115) and Thomas Hudner (DDG 116). The shipyard began fabrication on DDG 115 in November 2011, and delivery to the Navy is scheduled for 2016. Fabrication on DDG 116 began in November 2012, and that ship is scheduled to be delivered to the Navy in 2017.

The Arleigh Burke-class destroyer is a multi-mission combatant that offers defense against a wide range of threats, including ballistic missiles. It operates in support of carrier battle groups, surface action groups, amphibious groups and replenishment groups, providing a complete array of anti-submarine (ASW), anti-air (AAW) and anti-surface (SuW) capabilities. Designed for survivability, the ships incorporate all-steel construction and have gas turbine propulsion.

Bath Iron Works currently employs roughly 5,400 people.

www.gd.com