Tideland Buoys and Lights for Nakheel's Dubai Developments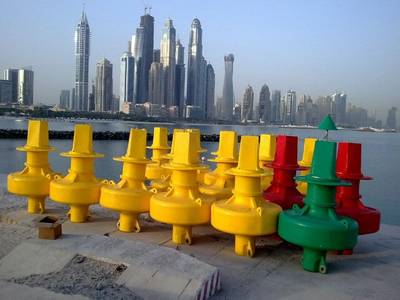 Tideland Signal supplied a large quantity of buoys—complete with lanterns, moorings and bridge lights—to Nakheel Marine Group of Dubai for its Palm Deira, Palm Jebel Ali and The World developments.

The bulk of the Tideland equipment comprises 13 SB-285P buoys marking the exclusion zones at Palm Deira and Palm Jebel Ali and 43 SB-138P buoys deployed as lateral marks at both Palm Islands and also at the World development. All these buoys are fitted with Tideland's SolaMAX 140/6 self-contained LED lanterns with a range of 5NM. There are also 12 SB-1000P buoys carrying self-contained flashing bridge lanterns and six MLED-120E Omnibus fixed bridge lights, all deployed at Palm Jumeirah.

Tideland's SB-285P and SB-138P buoys feature construction of rotationally molded, UV-stabilized, self-colored polyethylene filled with expanded polystyrene. Ballast is internally located in the SB-138P and mooring/lifting eyes are molded into the buoy body. There are no external corrodible parts on either buoy.

The compact lightweight design of Tideland's SolaMAX 140 lantern features a high-intensity MaxiHalo-60 LED flasher controller with 256 user selectable flash codes and integral solar panels charging a sealed, maintenance-free lead acid battery. All the internals, including the long-life LEDs and high-integrity electronics, are contained within a tough UV-resistant polycarbonate enclosure and will even withstand being temporarily submerged in salt water. The only time the lantern needs to be opened would be to change the battery, recommended after five years operation.