Power Devices Stand Up to Mother Nature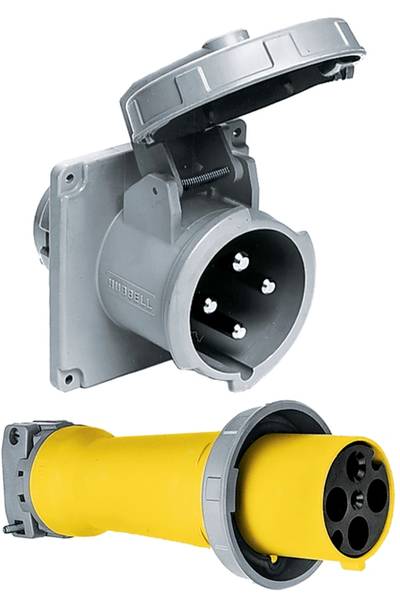 Ship-to-shore power devices are subjected to heat, cold, rain, snow or corrosive salt spray.
Hubbell Marine offers a high-quality line of 100 amp pin and sleeve plugs, connector bodies and components designed to withstand damaging marine conditions.
Hubbell Marine's shore power inlets use a spring-loaded, gasketed cover that automatically closes when not in use, creating a weatherproof seal. Locking the cover makes it watertight. Inside, nickel-plated, solid brass pins ensure a reliable electrical contact. A high-impact thermoset contact carrier is resistant to arcing and overheating to enhance safety. Terminals are clearly marked for simple installation.
Rugged connector bodies are made from Zytel, a super-tough nylon, and can be attached to cords from 1" to 1.94". Various models connect to shore power inlets, extension cords or adapters. A gasketed locking ring ensures watertight connections. Large external cable grips protect wiring from conductor movement and resulting terminal strain. Compatible with existing cables, they simplify replacement of worn-out fittings.