Plateena Rope Makes a Difference for India's Fishermen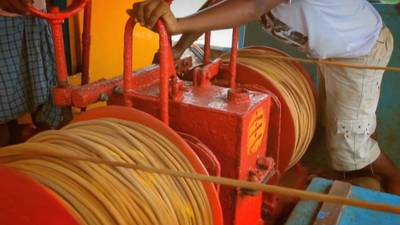 India's Garware-Wall Ropes introduce Plateena rope composed of Dyneema®, the world's strongest fiber™, made by DSM
A leading cordage manufacturing company in India, Garware-Wall Ropes Ltd., is a household name in the fishing community through its close bond with Indian fishermen.
During extensive trials, the benefits of Dyneema® became clear when in 2011, the fishing vessel "Srinivasa" was trialing the new Plateena rope warp lines in heavy currents, when with a change of direction the net became stuck under a rocky surface on the seabed.
The skipper gave full throttle and suddenly there was a jolt. To his surprise, the cause of the jolt had been the center pole, which had come out of its joint bolted on both the sides with 2.5 inch nuts within a metal frame.
The rope had remained intact, and 8 hours later another boat arrived to help safely disentangle the net from the seabed - all carried out without any damage to the rope.
The manufacturers claim that this rope has minimum drag in the water when hauling fishing gear and can help crews cut fuel costs by 40% while making the boat easier to handle - and safer.