YBDSA Gala Dinner and AGMs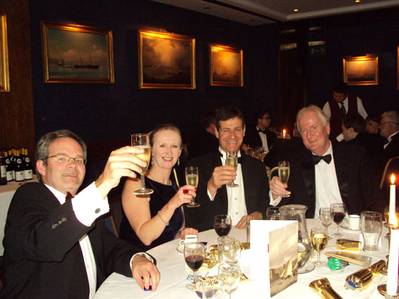 As 2012 draws to a close, the Yacht Brokers, Designers and Surveyors Association (YBDSA), ended its Centenary year in style with a Gala Dinner held at the prestigious Royal Thames Yacht Club.

The Gala Dinner was attended by more than 80 past and present members of the YBDSA, Yacht Designers and Surveyors Association (YDSA), Association of Brokers and Yacht Agents (ABYA), and the Professional Charter Association (PCA) and guests. Guests were treated to an after dinner presentation entitled 'Extreme Women' from BBC Broadcaster Tracey Clark, British Powerboat Champion, Shelley Jory and ultra runner Lucy Rivers Bulkeley. In addition, a raffle was held, raising more than £600 for the Disabled Powerboating Trust – a charity which aims to get more people with disabilities out on the water in powerboats.

The following day members attended the YBDSA, ABYA and YDSA annual general meetings which were held at the Royal Institution of Naval Architects. In honour of the YBDSA's Centenary landmark, the YBDSA awarded Fellowships to surveyors Tony Tucker, Charlie Rossiter, Ed Sawyer and Anthony Byrde for their services to the YDSA committee and to Paul Stevens for his work leading the IBTC Practical Surveying course, and brokers Simon Turner and Sue Grant for their services to the ABYA committee and to the ABYA membership. Additionally 13 members who have been members of the Association for 25 years or more but are not Fellows were awarded certificates recognising their membership duration.

Jane Gentry, CEO at the YBDSA said: "The Gala Dinner and AGMs were a wonderful way to round off what has been a very important year for the YBDSA. Both provided a fantastic opportunity for members to come together and network, and we were delighted to honour so many with a fellowship in recognition of their outstanding service."